Tuesday, December. 22, 2020
FOR IMMEDIATE RELEASE
Contact: Neil Bhaerman, Communications Director
Miguel Cardona's Cabinet Nomination Will Move Ohio Schools Forward
Connecticut Education Commissioner Miguel Cardona is expected to be nominated as Secretary of Education for the Biden Administration, fulfilling the President-Elect's campaign pledge to name a former educator to the position. Cardona was an AFT member, educator, and administratrator in Meriden, Connecticut before becoming Connecticut's Education Commissioner.
OFT President Melissa Cropper released the following statement in response:
"Ohio Federation of Teachers congratulates Miguel Cardona on his nomination to be the next Secretary of Education. His insight and experience as an educator will be invaluable in shaping a Department of Education that can meet the growing needs of our students.
Our public schools, which educate 90% of Ohio students, have been struggling due to Betsy DeVos's radical privatization agenda and the irresponsible EdChoice voucher expansion pushed through by her adherents in the Ohio legislature. We know that Cardona will refocus the Department on ensuring that public schools are adequately funded, safe, and able to address the social and emotional well-being of our students. It is essential that Congress gives Cardona the resources to support this agenda by including President-Elect Biden's priority to triple Title I funding and fully fund the Individuals with Disabilities Education Act (IDEA) in the federal budget. 
In some Ohio school districts, like Cincinnati Public Schools and Alexander Local School District, Community Learning Centers have shown how we can harness all the resources in our communities -- public, private, and non-profit -- to actually support the whole child and look at learning from an academic, social and emotional perspective. We're eager to work with Cardona on ways that his Department of Education can help us expand that model throughout more Ohio school districts.
We are also looking forward to Cardona's support in making Higher Education more affordable, and fixing the Public Service Student Loan Forgiveness program to ease the financial burden for  teachers, social workers, firefighters and workers who chose careers serving their communities.  
Betsy DeVos has been an unmitigated disaster. We're ready to turn the page and see the impact that a dedicated educator can have on the Department of Education."
###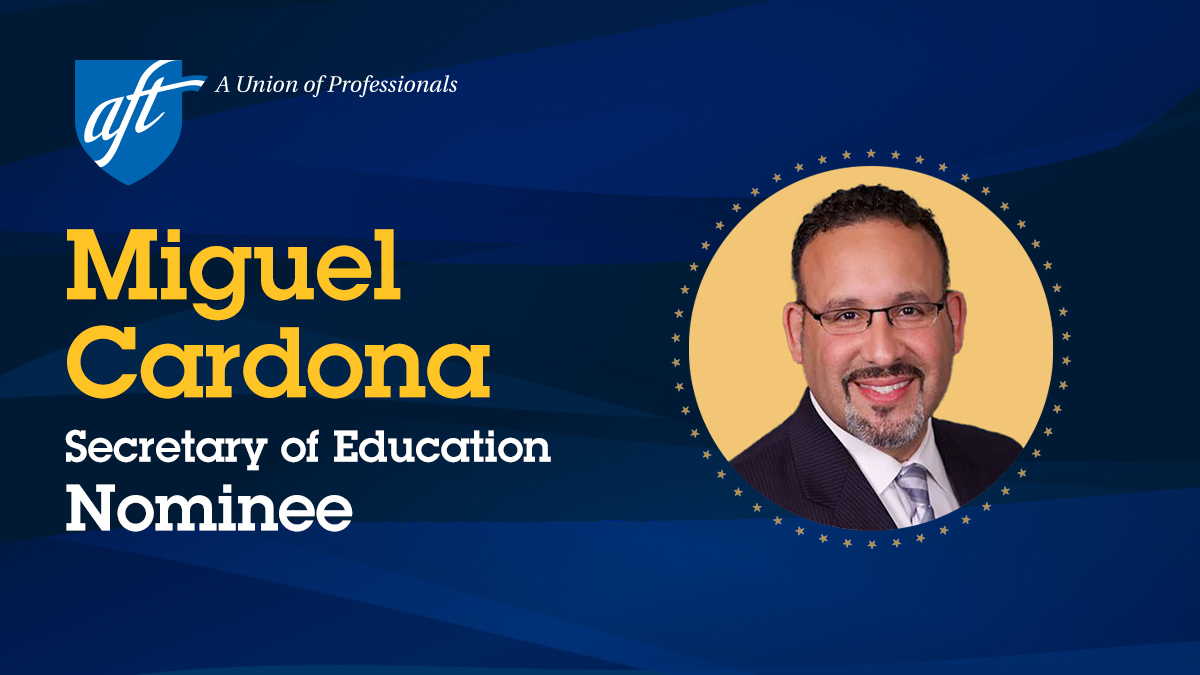 The Ohio Federation of Teachers (OFT) is composed of 54 local unions representing 20,000 members who are active and retired public school teachers, charter school teachers, school support staff, higher education faculty and staff, and public employees. OFT works to advance quality education and a voice in the workplace for Ohio's education professionals. OFT is affiliated with the American Federation of Teachers.