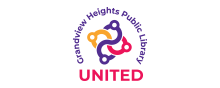 August 30, 2022
FOR IMMEDIATE RELEASE
Contact: Neil Bhaerman, OFT Communications Director, 412-266-489, nbhaerman@oft-aft.org
Grandview Heights Public Library Employees Launch Union Campaign
GRANDVIEW HEIGHTS, OH — Today, staff at Grandview Heights Public Library (GHPL) called on their Director and Board of Trustees to voluntarily recognize their union. Copies of signed union cards from an overwhelming majority of library employees were delivered to management, while the originals were filed with the State Employee Relations Board (SERB) to request voluntary recognition of the union. 
"I love our library and I love my job. Our team members are what make our library such a great place to work and a great library for our patrons," said Grace Freeman, a librarian at GHPL. "Unionizing reinforces our commitment to being able to continue to offer that kind of library experience, and ensures staff have a voice in policies that impact us and our patrons."
In addition to their request for recognition of their union, employees are calling on GHPL to not use taxpayer money to hire anti-union consultants or to engage in any actions that could be interpreted as anti-union behavior.  
The employees are organizing to join the Ohio Federation of Teachers (OFT), who represent nearly 20,000 active and retired public school teachers, charter school teachers, school support staff, higher education faculty and staff, and public employees in Ohio. In the last 12 months, staff at four different organizations have won union elections and affiliated with OFT (Worthington Libraries, Summit Academy in Lorain, Menlo Park Academy in Cleveland, and Equitas Health). Additionally, educators at the Jefferson County Board of Developmental Disabilities are currently voting in their union election. 
"Library staff who work directly with patrons have insight that is not just beneficial but vital to how our libraries operate," said Becca Bushman, a library associate at the Worthington Park branch of Worthington Libraries. "Unions are the most effective way to funnel that insight into real change. We are so thrilled for and proud of Grandview Heights Public Library United. We look forward to working alongside them to maintain and raise the standards of central Ohio libraries."
"Growing up, I have seen the importance of unions and the way they have saved my family's lives. They provided us with security. I believe my coworkers and I deserve that same kind of security in our workplace," said Claire Ehmann, a library associate at GHPL. "We all work so hard and we deserve an environment where we can be heard regardless of job description."
"As a statewide union of educators and public service workers, OFT members know how vital our public libraries are for students and communities throughout Ohio," said Melissa Cropper, President of the Ohio Federation of Teachers. "These workers are organizing because they love their library and know that it will be stronger, and better able to serve the community, when employees have a voice."
###