FOR IMMEDIATE RELEASE
Tuesday, February 19, 2019
Contact: Neil Bhaerman, Communications Director for Ohio Federation of Teachers
Summit Academy Parma Teachers Begin Strike
Strike for improved learning conditions for students is a response to Unfair Labor Practices.
Parma, OH — Teachers at Summit Academy Parma began their strike today at 7:30 a.m. at the school building on Stumph Road in Parma. The teachers are striking over an Unfair Labor Practice charge against Summit Academy Management for their failure to negotiate in good faith. Through nine months of negotiations, teachers have been seeking: improved health and safety conditions, manageable class sizes and caseloads, planning periods, and standards that will allow the school to retain quality teachers and provide consistency for students.
"Our priority is better learning conditions for our students," said Todd Ratica, a middle and high school Social Studies teacher and member of the bargaining committee. "Summit Academy Management has different priorities. In our negotiations, they even told us 'students are revenue.' We didn't want to strike, but it was necessary to guarantee the resources that our students deserve." 
After a nearly unanimous strike vote on January 31, the union was able to schedule an additional bargaining date with management on Friday, February 15 in an effort to avert the strike. 
"We were willing to forgo economic increases for teachers to ensure the staffing and class sizes that Summit Academy claims to provide. Summit Academy Management rejected that proposal," said Heather Sedlack, a high school intervention specialist and member of the bargaining committee. "We also wanted to go back to the table over the weekend, but management claimed they weren't available. We're focused on making sure our students get the attention they deserve."
Many parents and students joined the picket to support the teachers.
"My daughter has come so far since starting at Summit Academy, and so much of that has to do with the teachers. We support the strike because our kids and the teachers deserve better," said Abby Fischer from Middleburg Heights, whose child attends Summit Academy Parma. "My kid deserves a high qualified teacher. She deserves an intervention specialist. She deserves a one to eight ratio, which is what they're supposed to have." 
"Summit Academy's business model appears to be prioritizing profit over the safety of their students and staffing the school at levels that are inconsistent with what they promise parents," said Melissa Cropper, President of the Ohio Federation of Teachers. "The teachers and intervention specialists at Parma are the latest educators in a national wave of teachers' strikes because they know their students deserve better."
"It shouldn't be this difficult for teachers to get the resources they need to teach effectively in a safe learning environment for their students," said State Representative Jeff Crossman (D-Parma). "I stand with the working women and men at Summit Academy Parma who are using their voice to fight for higher standards for their students."
"Charter schools operate with less oversight than public schools, so it's especially important for charter school teachers to have a voice in the workplace and a contract that allows them to hold their management accountable," said Sean Belveal, a U.S. History and Government teacher at Northeast Ohio College Preparatory High School and President of Cleveland Alliance for Charter Teachers and Staff (Cleveland ACTS).  
Lake Erie West, Summit Academy's sponsor, was also the sponsor for the scandal-ridden Electronic Classroom of Tomorrow (ECOT) charter school. The union will be hosting a press conference in Toledo on Thursday to discuss the role the Lake Erie West has in the charter school industry.
Cleveland ACTS is only the third union to have charter teachers go out on strike. Previously, charter school teachers were on strike once in Los Angeles and twice in Chicago, including a strike that ended yesterday.
Daily pickets outside the school will continue until the teacher-led bargaining committee reaches an agreement with Summit Academy Management. Additionally, there will be other events later this week to support the strike, including leafleting at other locations and a press conference in Toledo about Lake Erie West and charter schools.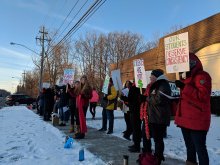 ###
The Ohio Federation of Teachers (OFT) is comprised of more than 50 local unions representing 20,000 members who are active and retired public school teachers, charter school teachers, school support staff, higher education faculty and staff, and public employees. OFT works to advance quality education and a voice in the workplace for Ohio's education professionals.  
Cleveland Alliance for Charter Teachers and Staff (Cleveland ACTS) is a local union affiliated with OFT, representing teachers and staff at six Cleveland area charter schools. Cleveland ACTS is the only union of charter school teachers in Ohio. Cleveland ACTS and OFT are affiliated with the 1.7 member American Federation of Teachers