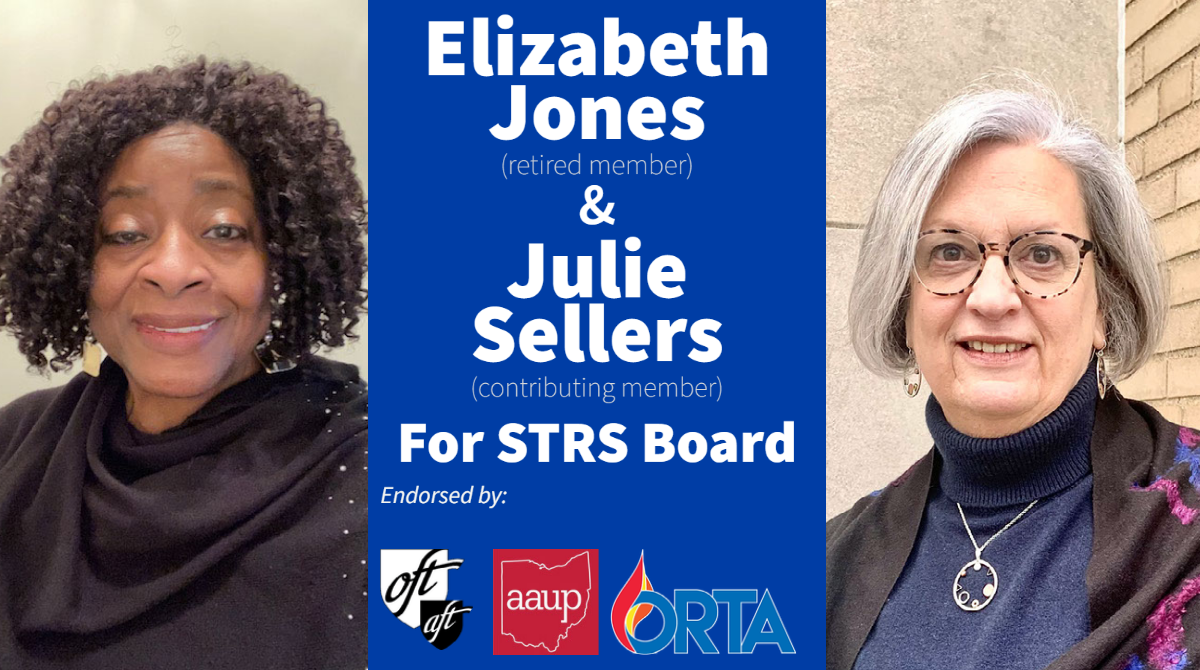 This year, there are three open seats to the State Teacher Retirement System Board, two seats for contributing members and one seat for retiree members.
OFT is proud to endorse Julie Sellers, President of Cincinnati Federation of Teachers, for one of the contributing member seats and Elizabeth Jones, President of Cincinnati Federation of Teachers Retired, for the retired member seat because we need new voices on the STRS Board. They have also been endorsed by the Ohio Conference of the American Association of University Professors (AAUP), and the Ohio Retired Teachers Association (ORTA).
How to Cast Your Ballot:
You should have already received your ballot in the mail. The envelope will look similar to the image below.  

Fill out your ballot by checking the box for Julie Sellers (contributing) or Elizabeth Jones (retired) as soon as you get it. If you are unable to vote immediately, take a picture of the pin number on the ballot with your phone. This will ensure you have the number and can vote. 
VOTE TODAY: There are three ways to cast your ballot in this election: 
Using your pin number, you can vote by phone. 
Using your pin number, you can vote online at this link. 
You can vote by mail with the ballot mailed to you. Fill it out and return it with proper postage.  Do not do this after April 22, 2022 to ensure it has enough time to be received by 4:30pm on May 2, 2022. 
If your ballot has not arrived or you have misplaced your ballot, call the Election Services Co. customer service line toll-free at 866‑720‑4357. They will give you your pin number and you will be able to vote by phone or online.
Julie's candidate statement
"I'm a STRS contributing member, with 20 years of experience as an elementary school teacher before being elected President of the Cincinnati Federation of Teachers, Local 1520 in 2009. 

In addition to my role as CFT President, I also currently serve on the Executive Board of the Cincinnati AFL-CIO Labor Council and the Executive Committee for Ohio Federation of Teachers, and as co-chair of the Ohio 8 Coalition, which is made up of district superintendents and union presidents from Ohio's eight largest school districts. 

I have always fought at the local level to make sure educators can retire with dignity. I'm running for the STRS Board because I want to fight for all educators to have that dignity. I'm not afraid to be a watchdog or to call people and institutions out when needed. I'll push the Board to be more transparent and to stop doing the same old things that have kept STRS from recovering financially. 

I've been involved with retirement issues since 2008, when actions were taken to make the system more soluble in response to the Great Recession. Unfortunately, the actions that have been taken in the last 14 years have not stabilized STRS, and contributing members are carrying the heaviest burden from that failure. 

We pay the second highest contribution rate in the country (for statewide teachers pension systems), yet we've seen it become harder and harder to retire with full benefits. Once we retire, without cost of living adjustments our spending power goes down every year. I'll fight to reduce the years of service requirement, reduce or eliminate the age requirement, and restore an annual COLA. We can do that with smarter investments, increased transparency, and a long overdue increased contribution from employers. 

I speak to CFT members everyday and that has given me a great understanding of the wide array of stressors that contributing members are facing as we do our jobs through a global pandemic. Having a secure retirement should not be one of those stressors, it should be a guarantee."
Elizabeth's candidate statement
"I am a retired high school English teacher and Guidance Counselor after working more than 30 years in Cincinnati Public Schools. I was an English Department Chair for over sixteen years, and I also served as the K-12 Language Arts Curriculum Council Chair for several years. I am used to being an advocate. Throughout my career I was an active union member. I worked to ensure that educators had fair and safe working conditions, fair pay and retirement security–at the building level and as my union's Collective Bargaining Chair. After retirement in 2005, I began serving on the OFT Retirement Committee. In 2016, I was elected to the position of President of the retiree chapter of the Cincinnati Federation of Teachers. I mobilized several trips for our retirees to attend STRS meetings. We brought people to STRS Board meetings to express their desire that our promised COLA be restored. I want to see change, and it doesn't look like the present STRS board is interested in change or challenging the Board.  

I amped up my activism on retirement issues when STRS began discussions about suspending our COLA, and I partnered with CFT and OFT to host a meeting with STRS management in Cincinnati to discuss and get feedback on their plans.  It was attended by our members, as well as members of the Hamilton County Retired Teacher Association. As President of CFT-R, I have attended STRS meetings regularly and have mobilized my membership to fight for the reinstatement of our COLA. I have also sought out independent information from the National Conference on Public Employee Retirement Systems (NCPERS) and the National Institute on Retirement Security (NIRS) that have helped inform my views on improvements that must be made at STRS. 

I am running because STRS needs a change in direction and that will only happen with new voices and ideas on the STRS Board. 

As a board member, my top priority is to restore the annual COLA without creating any additional burdens on contributing members. Contributing members have already seen their benefits decrease due to a longer years of service and age requirements. Retired members and contributing members must all move ahead together without being divided. To do this, STRS will need to move to a lower risk investment strategy that can sustainably increase our rate of return and move away from hedge fund and private equity investments with their costly fees."