The Ohio Federation of Teachers is pleased that Ohio voters created opportunities for a stronger future by electing Democratic candidates for Governor Richard Cordray and Lt. Governor Betty Sutton in the 2018 May primary.
The Cordray/Sutton team earned OFT's endorsement for their ardent support for the public education and  public services hardworking citizens need to get ahead.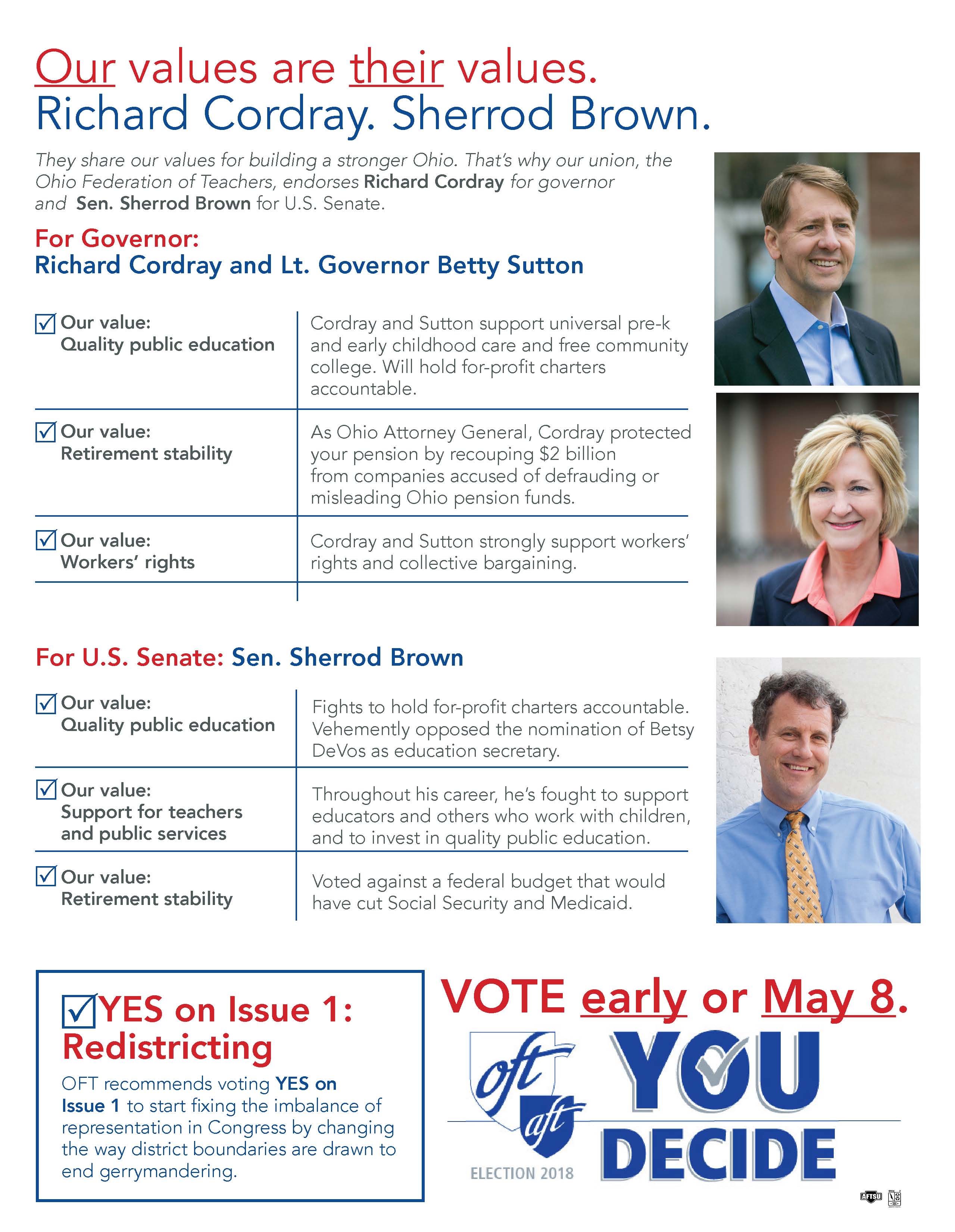 "Rich Cordray is incredibly smart, thoughtful and committed to raising up Ohioans so that we all can enjoy a stronger future for ourselves and our families," said OFT President Melissa Cropper. "Cordray has dedicated himself to improving the lives of others. We strongly support him for governor."
For the last five years, Cordray served as the first-ever director of the Consumer Financial Protection Bureau, where he led an agency that was launched in the aftermath of the nation's financial crisis, dedicated to defending families against Wall Street and corporate abuse. Under Cordray's leadership, the CFPB brought actions against some of the nation's largest financial institutions – forcing them to pay nearly $12 billion to more than 30 million Americans who were cheated or mistreated.
Before serving our country at the Consumer Bureau, Cordray defended Ohioans as Attorney General. He worked to hold Wall Street accountable by recovering more than $2 billion for Ohio's public teachers and retirees who were victims of alleged fraud.
OFT also is pleased that voters passed Issue 1 to improve redistricting.
Teachers endorse Cordray/Sutton for governor/lt. governor and Brown for U.S. Senate
Our values are their values. Richard Cordray. Sherrod Brown.