Strike to be only third in nation by a charter school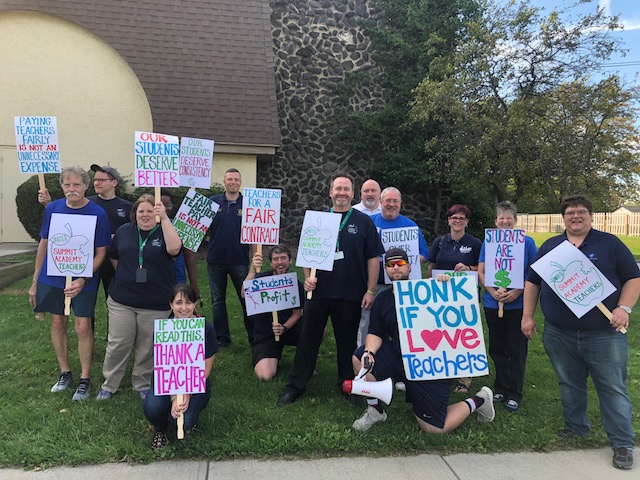 (Feb. 1, 2019) Educators at Summit Academy Parma voted overwhelmingly to go on strike after management refused to improve teaching and learning conditions.
Charter school teachers and intervention specialists at Summit Academy Parma voted in March to form their union with the Cleveland Alliance of Charter Teachers and Staff (ACTS), the Ohio Federation of Teachers and the American Federation of Teachers, their national affiliate.
These affiliations provide numerous services including professional development programs to improve and expand teaching expertise as well as support during negotiations for a new contract and, if necessary, during an action such as the upcoming strike.
Although the educators formed their union almost a year ago, management has refused to negotiate in good faith and failed to reach agreement on a first contract. 
Summit Academy Parma is a charter school catering to students with special needs, such as students diagnosed with Autism Spectrum Disorder. 
"Summit Academy Parma's 24 teachers are deeply passionate about helping their students learn and grow as they navigate both academics and understanding how to manage the daily demands of life," said OFT President Melissa Cropper. 
"They formed their union because they wanted to have more input on how the school functions and how the school addresses student needs," Cropper said. "Members of the community and, specifically, parents support these teachers in asking for more resources for the school." 
Educators seek a contract that improves resources for students and ensures educators have a voice in school decision-making. A key factor in their wanting to form a union was securing the resources necessary to adapt instruction to fit the widely diverse needs of their students. 
Many Summit Academy Parma teachers are not provided a planning period to improve teacher retention and recruitment while creating the best educational experience for students. Many teachers work all day without a break for lunch. Teachers seek to gain these and other basic elements in their first contract. They seek to improve working conditions so they can better serve their students. 
"We are fighting to get better learning conditions for our students. When our students are left unsupervised for teachers to perform non-teaching duties, that is unsafe. When teachers lose planning time, that impacts learning.  When classes are too large, that impedes our ability to meet each child's needs. When wages are too low, that creates instability in staffing," said Todd Ratica, who teaches middle and high school social studies. "We care about our students and know that the only way they will get the learning environment they deserve is by ensuring safeguards in a contract." 
Community members, parents and other supporters have joined teachers for a rally in October and numerous walk-ins conducted before the school day begins. The community has also shown up to support teachers at board meetings. These actions have drawn greater public attention to the inequities at the school.
One such inequity is pay. Administrators received significant pay raises while teachers received little or no increase. One in particular, CEO John Guyer, received a $31,000 raise, an amount higher than many teachers earn in an entire year.
Teachers and community supporters have spoke at board meetings. They also have appeared before the Parma City Council which unanimously passed a resolution supporting the Summit Academy teachers in their fight for a fair contract.
Educators and management of the Summit Academy chain of charter schools must negotiate the school's first collective bargaining agreement in its history, but management has failed to adequately address teacher concerns. After a failed negotiation session Jan.25 educators voted yesterday to authorize a strike until management can better understand the needs of teachers and students. 
This will be only the third strike in U.S. history by teachers of a charter school following strikes in Chicago and Los Angeles.
###